Name: Blair Kahora Cardinal
Title: Assistant VP, Director of Media Relations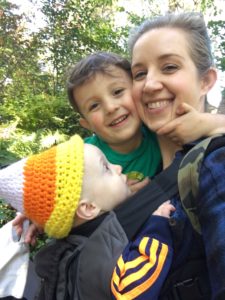 Favorite Part of Working in Public Relations: Mentoring. Uplifting junior team members is essential for success. It's never: "make this media list, and I'll take it from here." I like to teach everything from thoughtful strategy to proper execution. There's nothing like watching someone you helped train get his or her first hit…then second…then third. I got the same satisfaction when I was an adjunct for the communications department at Temple University. I loved to share my day-to-day experiences with the class and watch as something would "click" for them.
Tip for Other Public Relations Professionals: Learn something from everyone. Each person you work with knows stuff you don't. Figure out what that is, and ask.
Most Memorable Moment at Buchanan PR: Working with the Foundation to Abolish Child Sex Abuse on a media campaign to urge Pope Francis to talk about survivors of clergy abuse. He did.
Pet Peeve: When I can hear people eating—biting, chewing, swallowing. Even if a person's mouth is closed, I find it entirely repulsive. I guess no one is going to want to sit next to me at lunch tomorrow now.
Guilty Pleasure: Candy canes. Before the Christmas candy season runs out, I buy several boxes of candy canes to get me through the year. Sometimes, I smash them up and put them over ice cream.  And no, the round mints are not the same thing.
Favorite After Work Activity: After work activity? Hahaha, hilarious. I have two wonderful little boys who are my after-work activity. My 1-year-old, Ozzie, and my soon-to-be 4-year-old, Carmen, usually have a dance party each night after dinner. Our musical selections typically range from "Frosty the Snowman," to Katy Perry's "Swish Swish" to "Head Over Heels" by Tears for Fears.